This Friday, December 13, 2019, marks my band Skarizon's second performance. We'll be playing at the Winter Arts Festival. However, this coming January, we'll be celebrating 1 year together as a band!
We are a large band, and we play music primarily suited for larger bands – ska music. Ska is a type of Latin music that originated from Jamaica in the 1960s (it was the precursors to reggae), and it's characterized by an upbeat feel. It reached its popularity in the '60s and '70s, and had a small return in the 90's when a lot of punk bands in that era (pretty much every single punk band…including the Dropkick Murphys) started adopting ska in some form, whether it was having an actual horn section with a full-on ska feel, or just playing ska-style upbeats as a rhythm section.
For the longest time, I've always wanted to start a band. In middle school, I wanted to start a Bryan Adams cover band with me as singer and guitarist. In 9th grade, I was somewhat thinking of starting a punk band. In early 10th grade, I tried starting an Indian classical music band with two other people that could play instruments found in Indian music, but that fell apart during the first meeting. Meanwhile, however, we were learning about ska music in jazz band. One of the songs we learned was a song called "Latin Goes Ska" by a band called the Skatalites.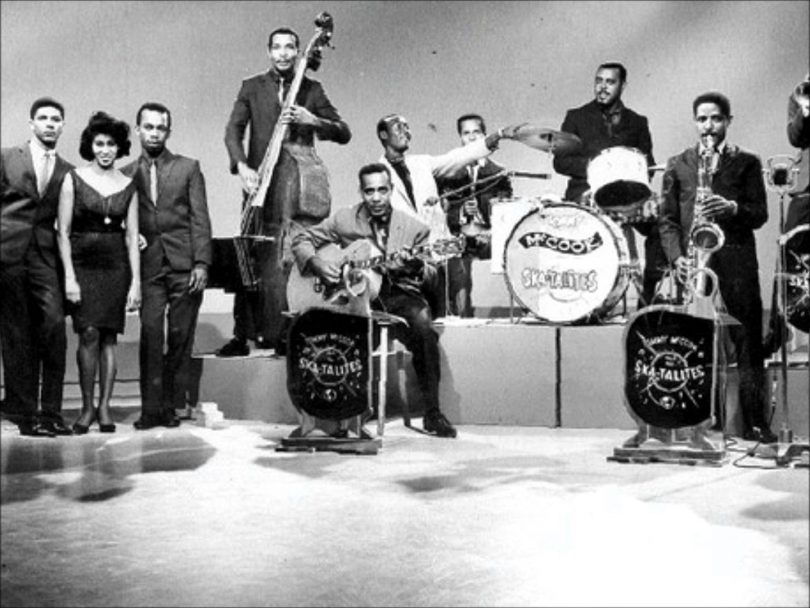 This song had a really happy feeling to it, and everyone was hooked from the first listen of this song! We loved it so much we played it on our last day of jazz band. In Skarizon, I always make sure every new member learns this song first; it's become an essential part of the Skarizon experience.
After one rehearsal of that song, Dr. Liddell half-joked that someone should start a ska band. I'm not sure if this was my growing love for ska or me not being able to recognize a joke, but the idea stuck with me. For most of December, I failed at recruiting people to join the band. However, when January came along, prospects changed for the better.
When I started the band back in January, the first person to join was our guitarist Rohan Kumar. We would meet up on Friday during brunch time and then after school and played songs ranging from what we learned in jazz band to…Nickelback.
Eventually, we got the addition of our bassist/vibes player Daniel Cha. He helped arrange a lot of our songs, including our cover of "Seven Nation Army", which we played at the Art Stroll for our first concert, and ska covers of Christmas songs (we're playing one of them at this Winter Arts Festival).
Over the course of several months, we got the additions of baritone sax player Chayla Venzon, pianist Mark Yang, clarinet player Annabelle Overholt, flutist Julia Via, and alto saxophonist Ron Li. This was our lineup all the way to August, when we got new members. We got trombonist Sarp Gursel, violinist Brigitte Chung, and bassist/vibes player/pianist Aaron Lam (he joined in September and alternates on bass with Daniel).
Last year, we took over the villa during Friday brunch time and we quickly became known as the "Brunch Time Band". This became our name until we switched to Skarizon. This academic year, the name doesn't even apply since we don't even meet during brunch time anymore.

However, the name Skarizon came from a well-timed picture. Back in April, our robotics team 7419 Tech Support went to Houston since we won all the rookie awards to get to the final level competition. I didn't go with the rest of the team since I was too worried about school (I was having a hard time in calculus), but my parents and friends persuaded me to go anyway. My mom and I went together to Houston and stayed with my dad at another hotel (he traveled from India to Houston to take part in the experience). The three days I spent in Houston were the three best days of my life, and I would later go home before the rest of the team left. Anyway, we were at San Jose Airport, and the plane was about to park so we could disembark. Next to us was an Alaska Horizons flight, but the "Ala" part was covered by the gate.
I showed this to the rest of the band, and after (not) a lot of discussion, we finally thought of our name: Skarizon. Only a few months later, we had our first show at the 2019 Art Stroll, and we quickly became known as the Quarry Lane's first ever student-run band (and Quarry Lane's brand new ska band)!
We've had challenges along the way. The biggest challenge was trying to find people who were interested in joining. We play the kind of music that should've been with the jazz band, and we don't offer any music credit to anyone who's joined us. After we established ourselves a club, the only credit people would get is some club membership, which they could get by joining another club (and ska isn't as appealing for them). Even though we now have around eleven people, in proportion to the total school population, we're a minority. The only people that join are people that have somewhat known. Perhaps it's also that distinction that makes us who we are. As our bassist Aaron said, we're just a bunch of "…music fanatics that listen to the weirdest stuff".
Even though we're a small group, we're blessed to have the support of a community. However, we are deeply indebted to one man for getting us where we are now. For starters, no one except him could have the patience to listen to a bunch of high schoolers mostly goof off during band practice while figuring out how to play our songs. No one could always give us good advice on how to fix what we're doing and recommending us to push our limits constantly. But most importantly, if it hadn't been for him, we wouldn't even be around today. If we didn't learn to appreciate ska music, Skarizon would've never existed. That honor belongs to the greatest man himself, Dr. Liddell!
We're also really fortunate to have lots of amazing friends who encouraged us in other ways. Our first concert was recorded in its entirety by one of our friends, Wesley Vong. He also took pictures and videos of other performances and compiled them into a Google Drive folder which he sent to all of us. We had other friends of ours who came to cheer us on and witness the rise of a brand new ska band, including Aliva (legendary lead vocalist for the rock band).
Last year, one of our friends, Jay Yuan (he was in jazz band with me and all other Skarizon members who were also in jazz band) came and joined us on the violin. He always wanted to hang out with us and never got the time. Since he would move to Florida during the summer, he knew that he wouldn't have many chances to play with us. He joined us for our last official practice of the school year and clearly had an awesome time!
Another friend of ours, Elliot Tong, would hang out with us as we practiced. He wasn't a musician but he enjoyed being with us, and we loved having him around. Sometimes, we would force him to play an instrument like the piano or some percussion instrument. We don't see him around anymore, but we still remember all the fun times we've had with him. We also recently got another friend of ours, Andy Seo, to play the vibraslap with us. Even though we're an official band, we're still open to having other friends hang out with us as we practice. It makes practice sessions more relaxed and fun.
Apart from friends who jammed out with us, we also had people who would give us advice on our playing and how to hold things together. Dr. Liddell gave us a lot of advice on these topics, but we also had the aid of fellow music teacher Mr. Scuderi. He would sometimes listen to us and give us tips on how to improve what we're doing. Mr. McCullough, head of our school's official rock band (and best AP physics teacher ever), knows what we're doing in Skarizon through our conversations with him (there are three Skarizon members in his AP Physics CM class). We've talked about topics ranging from cool songs to band practice tips and tales.
Skarizon isn't just a band to us. It's a home away from home. Music has been an escape for all of us, whether it's a way of destressing after a tough test or finding an emotional outlet. Music conveys joy and pleasure through a story. Whether we know it or not, we're all in this band because we know what music truly means. Music isn't just a grade or a way to get the required art credit. It's an expression of feeling and a place that brings people together. We've all had good and bad moments, but when we get our instruments and start playing music, our entire world transforms. The joy and excitement we felt before a show gets amplified as we play, and we feel energized by all that positivity. On the other hand, if we've been having a bad day so far, we feel more centered and happier when we play music. All the negativity washes away as we keep playing.
When we finally look back on our high school days and think about Skarizon, we'll remember all the fun times we've had together. We'll remember all the people that helped us become who we are now (and keep us growing). We'll remember all the people that jammed out with us or hung out with us. We'll remember all the shows and rehearsals. But most importantly, when we look back, we'll remember what music has done for us – how it transformed our lives and brought us together. This is the story of Skarizon – a story of music bringing a bunch of strange high schoolers together.
A note from the author: We are playing at this Winter Arts Festival in the final slot for the day (2:20-3:00; we'll most likely perform outdoors along with the rock band). Please come check us out!