Ahoy! It's me, Manthan, and it's time for another article. I'm writing about my most favorite band, the Dropkick Murphy
Ever since 2000, they've had a tradition of playing on St. Patrick's Day. Whether they played in Boston (most of the time), Dublin (2013), or New York (one of their earliest shows I think).
For their 2020 St. Patrick's Day event, the band planned to have a six-day concert series in Boston with opening acts ranging from local musicians like Jesse Ahern (who toured with the Dropkick Murphys during their Europe tour, which ended a few weeks before the St. Patrick's Day events) to punk legend Lars Frederiksen of Rancid, who actually toured with them on rhythm guitar back in the early 2000s after rhythm guitarist James Lynch injured himself badly. It was going to be a massive event and there was lots of excitement about it. I personally wanted to go but 11th grade isn't an easy year.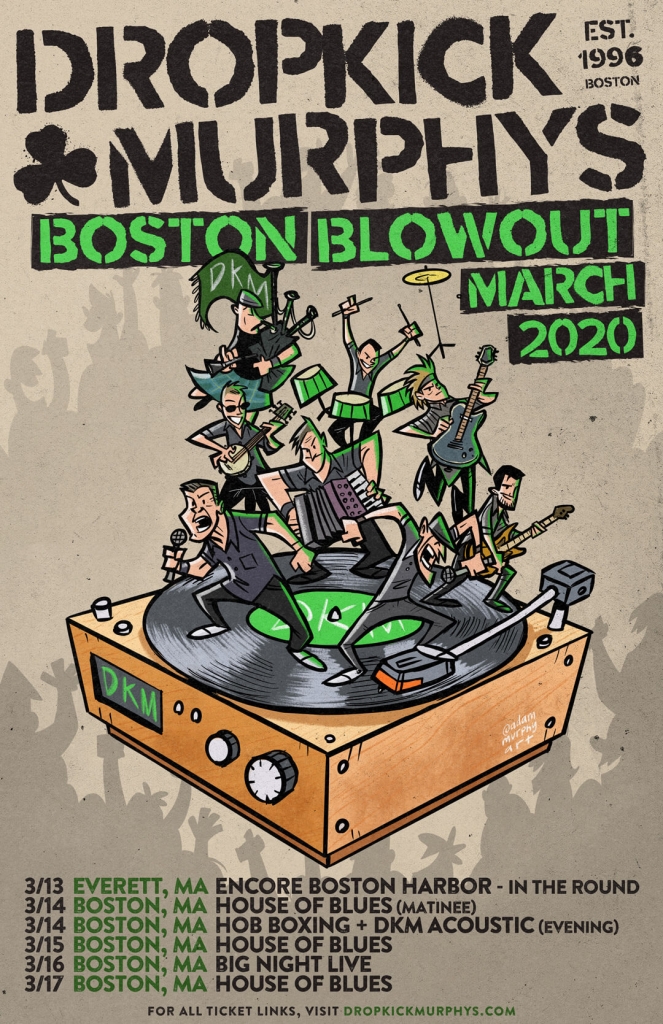 To add to the excitement, the band, back on January 31st, released two new songs – "Smash Sh*t Up" and "The Bonny" (cover of a Gerry Cinnamon song). I remember listening to those songs and going absolutely crazy about how great they were. The former song has an absolutely hilarious music video (and lyrics) which makes it seem like Weird Al Yankovic became a punk act, and the latter song sounded like it came from their 2003 album Blackout, which featured powerful guitars, loud bagpipes, and a strong punk sound.
Unfortunately, happy times came to an end. The coronavirus outbreak struck hard. Lots of events were cancelled or postponed, and it didn't seem likely that things would get better. All the Boston festivities were cancelled. This really sucked for me since I wanted to hear about all the awesomeness of that event.
On the band's Instagram page, there was an announcement stating that the events would be moved to September 11, 12, 13. The great part about that time period (September 11th) was that it was the day when the Dropkick Murphys were going to release their latest album, which is always exciting to hear about.
A few days later, even more epic news came. The Dropkick Murphys were doing what could be considered as the unthinkable – they were going to livestream a show without an audience! They also released a trailer video for that event.
Last week really sucked. My band and I had to cancel any performances/plans to perform (and even group practices now). The robotics season got cancelled. To top it all, we were switching to online school, which means that I'd be stuck indoors for a longer duration (on the other hand, we did have a mini party on Sunday, so it ended well).
The event was schedule to live stream at 4 pm Pacific Time. I kept YouTube open so I could go to the livestream to watch the event as soon as it started. The moment class ended, I quickly left and went to YouTube to watch the event while pretending to do what little homework I had.
About 15 minutes after I logged on, the real fun started! The screen, which was originally showing some background with "Cadence to Arms" playing, switched to a stage with lights dimmed. Band founder and co-lead vocalist Ken Casey hyped up the worldwide audience with the words, "Are you ready Boston? Are you ready USA? Are you ready world?" before screaming out the title of the first song they played – "THE IRISH ROVERRRRRRR!"
Sure, there was no audience (apart from all the tech guys), but that didn't matter. The Dropkick Murphys kept killing it with every song they played! I had to contain myself from screaming so my parents wouldn't get suspicious of what I was doing. When I went downstairs, I carried my laptop with me and kept the volume down so I could hide the fact that I was watching the live stream. I would dance around in my chair, and then in my room after my parents left to go for a walk. I had the time of my life! This was way more fun than the Bryan Adams concert I went to with my dad (partly because his music now is so predictable and boring and sounds like generic pop trash).
The band had a really awesome setlist. While all the songs were from the 2000s, ranging from songs like "Forever" (Sing Loud, Sing Proud – technically, this version was from their 2007 album The Meanest of Times) to their latest single "Smash Sh*t Up" and "The Bonny", we got the rare opportunity of hearing new songs as well.
The first new song they played was yet another lighthearted punk track with heavy Clash influences. The influences made sense, considering how they played "I Fought the Law" earlier in the set, and the fact that song was titled "Mick Jones Nicked My Pudding". The song was based on a true story by their producer Ted Hutt (he isn't related to Jabba and his kind) – he was going to a communal refrigerator to get some pudding he stored, but somehow Mick Jones of The Clash ate it before he came. The story was absolutely hilarious, and in 20 minutes, the band wrote this song. The time it took to write it didn't matter – it was absolutely fun to listen to.
For the next two new songs, the band switched to an acoustic set with an acoustic guitar, banjo, and accordion (as well as bass and drums; can't forget them).
The first of those two new ones was titled "The Queen of Suffolk County", which was a love song about a tough girl that you just can't mess with, but you know would still love you. The banjo sounded perfect and gave it that Irish folk vibe. Co-vocalists Ken Casey and Al Barr traded verses and sang together on the chorus with backing vocals from banjoist Jeff DaRosa, bassist Kevin Rheault, and rhythm guitarist James Lynch.
The lovey vibes faded away to an acoustic rocker called "Burn It to the Ground". The lighthearted punk vibes shone again in a song about life always falling apart. I was dancing around to it as it played. It's the perfect song for a pub scene.
I was singing along (albeit softly) to every song, even if I didn't know the words (the 3 new songs they played live). It seems that I, unsurprisingly, wasn't alone; the livestream was recently trending. It was the perfect start to a weird week and a great way to lighten the mood and have more hope for humanity during these troubling times.
This is the essence of punk rock – being so dedicated to your fans that you play a free live show for them to enjoy. Thank you so much, Dropkick Murphys, for your strong work ethic and dedication to music. There are few bands that can do this (part of it could just be that they didn't get a good venue for it…but you can do it from your own home) and it shows a lot about what their character and quality is like. Thanks for bringing some joy and excitement to the life of a high schooler who missed his chance to see you live!